Mark Rippetoe, owner of Wichita Falls Athletic Club, is the author of Starting Strength: Basic Barbell Training, Practical Programming for Strength Training, Strong Enough? Thoughts on Thirty Years of Barbell Training and Mean Ol' Mr. Gravity, and many articles for peer-reviewed publications and the internet.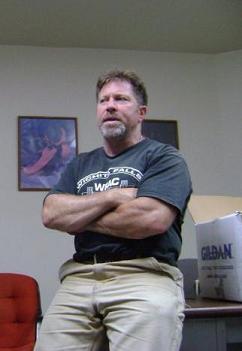 Rippetoe's Q&A Forum :: The place to ask questions.
Rip's Facebook Page :: Another public Face.
Rip's Amazon author page :: Hub for Amazon Addicts.
---
Carmen Philips taught aerobics through the 90s and joined WFAC in 2002 as a member.  In 2012, she made the transition to trainer and manager.  Most of her clients are middle aged and older and she has experience using barbells with clients suffering from chronic pain, fibromyalgia, arthritis, and the other "diseases of aging." She derives great satisfaction from keeping folks strong and feeling good.
To talk to Carmen about personal training or general membership questions, call (940) 696-0829
Rusty Holcomb was a long-time member of WFAC joining the gym around 2010. He has been coaching at WFAC since 2018 working with members from all backgrounds. Rusty also runs group training session for kids focused on sports performance.
To schedule a session with Rusty email: holcombstrengthtraining@gmail.com